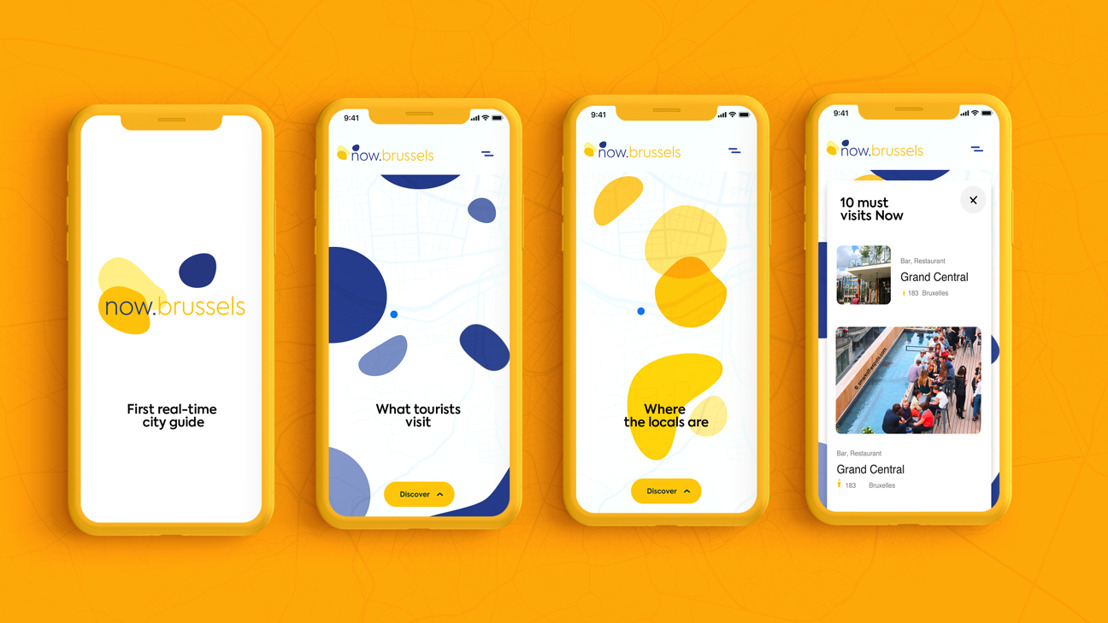 Visit Brussel like a local with the real-time city guide of Visit.Brussels and FamousGrey
Monday, 15 July 2019 — We all want to visit places like a local. But somehow tourists hardly get beyond the traditional landmarks of the places they visit. Visit Brussels wants to change this with their brand-new city guide Now.brussels. Now.Brussels is a mobile website that uses real-time data to show you where the tourists are and where locals are hanging out. The guide continuously creates and updates lists of the best city hotspots, mapping the biggest asset of Brussels, the hospitality of its inhabitants.
Now.brussels, which has been fully developed by creative agency FamousGrey, is an innovative mobile website that enables tourists to be in the right place at the right time in Brussels. Which bars do locals enjoy most? Where can you party until the early hours? Which events are not to be missed? After all, Brussels has so much more to offer than Manneken Pis and the Grote Markt. There are literally hundreds of places that are worth visiting but that are only known by the real Brusseleirs. Let the Brussels people guide you with Now.brussels: the first tourist guide that keeps being updated in real time by the people of Brussels themselves.
Intelligent algorithm & data
So, how does it work? To make this happen, Visit Brussels was able to collaborate with Belgium's biggest mobile operator Proximus. Using an intelligent algorithm and data, we are able to map the presence of both tourists and inhabitants in a completely anonymous way. The result is data designed in color zones on a map that, depending on their size and intensity, let tourists deduce where the local people from Brussels are at any specific time of the day and what are therefore exciting places to be. According to the number of people present, the ranking of the hotspots in the city are constantly updated. It's a new way for visitors to truly experience Brussels and to be inspired and guided by the locals.
Targeted campaign
To promote this new tool, Visit Brussels developed in collaboration with FamousGrey a campaign that also works in real-time. A digital OOH campaign shows the results of the city guide with changing results during the day. Just like the social media campaign, Instagram Stories also show the most popular places in real time in the categories brunch, apero, resto and party. The social posts are mostly targeted on Spanish and French tourists, because they appreciate Brussels the most of all Europeans as a travel destination. To create extra involvement with this target group, Famous Relations invited two top influencers from Spain and France to discover Brussels like a real Brusseleir with Now.brussels. Their visits were captured into a dynamic after movie which was also used on Facebook and Instagram to target French and Spanish tourists.
In just three weeks, 30 000 people made use of now.brussels. Soon every tourist will return home as a real Brusseleir.
Laure Vandeghinste Famous Relations
visit.brussels is the Brussels tourist agency. Its mission is to bolster and spread the image of the Brussels-Capital Region. visit.brussels wishes to put Brussels on the local and international map as the capital of 500 million Europeans, the "world city" where 180 different nationalities mingle, making Brussels a cosmopolitan place with permanent links to the rest of the world.