"From Cold Case to Gold Case", the first manual for case study films
Peter Ampe, winner of 43 Cannes Lions, wants good ideas to get the case study film they deserve
6th of February 2020, Brussels - Last year more than 7000 different case study films were entered at the Cannes Lions Festival. You could argue that case films have become the most important element of any creative idea. Unfortunately, making a good case film is still an ordeal for many. The book "From Cold Case to Gold Case" brings relief. It's the first complete guide for case study films, written by award winning creative Peter Ampe. Ampe is currently Creative Partner of FamousGrey and during the last decade he has been a respected member of the Global Creative Boards of the networks Publicis, DDB and Grey.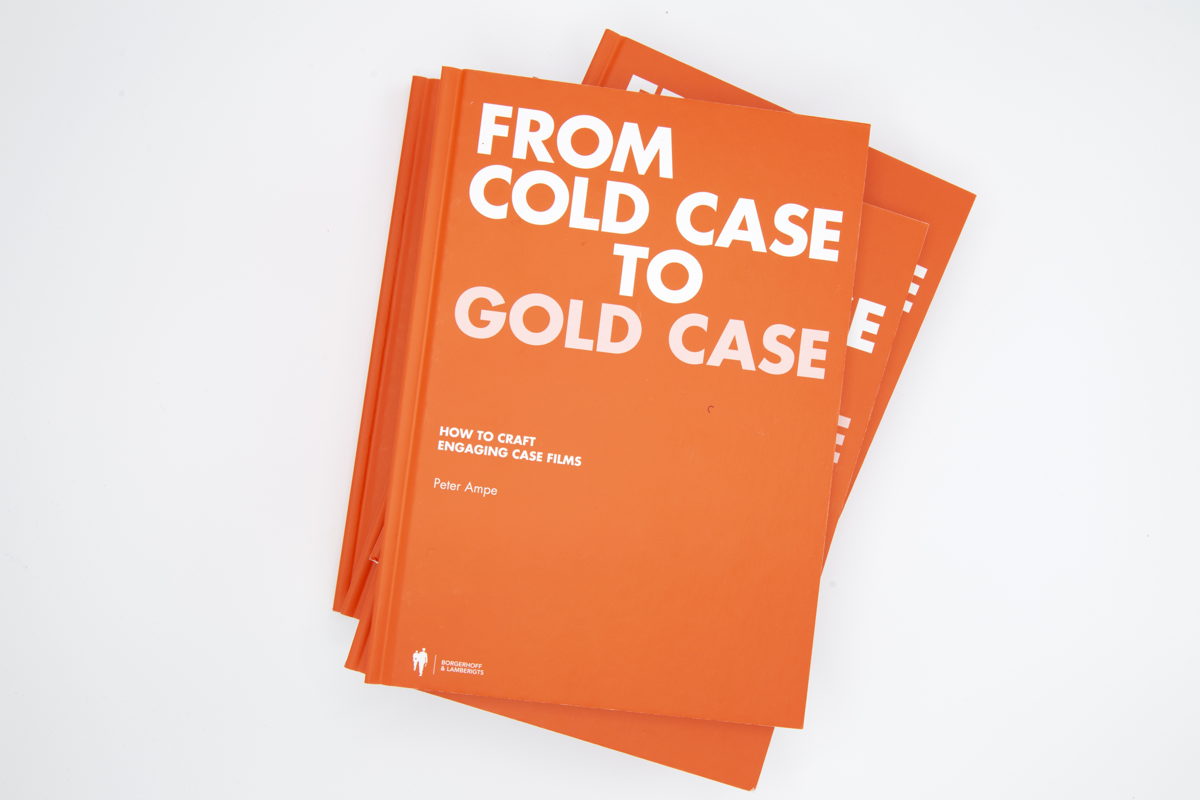 "CREATIVES LIKE CASE FILMS BECAUSE THEY WIN AWARDS;CFO'S SHOULD LIKE THEM BECAUSE THEY WIN NEW BUSINESS."– Peter Ampe.
"From Cold Case to Gold Case" combines fifteen years of jury experience with sharp analyses of award-winning cases. This guide is based on the vital insight that case study films have a lot in common with short movies. This guide teaches you to go from copywriter to screenwriter and use plot, genre and structure to evolve from complacent to compelling, from messy to seamless, from case to story. The ultimate result is a case film that enables you to experience an idea seamlessly, giving you a feeling for the flow, the different touch points and, ultimately, the overall results.
From copywriter to screenwriter
In 2019 exactly 7.102 different case films were produced for the Cannes Lions Festival of Creativity. It shows how essential they are in today's judging system. The shift from mono-channel ideas to multi-channel activations, brand experiences, services and product innovations has caused case films to become a necessity. It's the only way to clearly explain an idea in only two minutes. Another reason for the existence of case films is that they demonstrate creativity, which in turn generates growth. Forbes stated that companies that foster creativity are 3,5 times more likely to outperform their peers in terms of growth[1].
"My former CFO at DDB once stopped me in the hallway because our inhouse editor had spent 97 unbillable hours on a case film. Later that year, after we had won a Gold Lion with the case, a leading local mobile provider had invited us to work for them after seeing the case on our reel. From that moment on the CFO learned to appreciate case films." – Peter Ampe
Creatives rather take on radio briefings than engage on making case films
During his career Ampe experienced that making case study films remains every creative's nightmare. "Creatives rather take on a radio briefing than engage on making a case film," explains Peter Ampe. The focus of this step-by-step guide is the shift from copywriter to screenwriter, which is the hardest part. That's why this book is an essential tool for every advertising professional. "A great case film will not save a mediocre idea. But on the other hand, a bad case film can kill a great idea. With this book I want good ideas to get the case study film they deserve."
References by Philip Thomas
"The case studies for awards shows are mini- documentaries about the ideas and results of the greatest ideas in our industry. This book rightly acknowledges their importance, and the role they play in telling the stories of how creativity drives business, growth and change." — Philip Thomas, Chairman, Cannes Lions International, Festival of Creativity
About Peter Ampe
Peter Ampe (1966) has a Master Degree in Linguistics and Literary Studies. To date his track record includes the highest accolades in about every major international award show, among them 43 Cannes Lions Awards and 14 effie awards. During the last decade, Peter has been a respected member of the Global Creative Boards of the networks Publicis, DDB and Grey. Peter is currently creative partner at FamousGrey.
Details
This publication has been commissioned by Creative Belgium. The aim of Creative Belgium is to inspire the next generation of creative talent and help the creative industry to prove its added value. Promoting creativity as a driver of economic and social good and change.
[1] https://www.forbes.com/sites/falonfatemi/2018/07/27/why-creativity-is-a-secret-weapon-in-sales/#5d02c0222bf0
Laure Vandeghinste Famous Relations